A dental filling is something that many people need to undergo at some point in their lives. They are used in treating tooth decay or restore a damaged tooth. One of the most popular types of filling is the silver amalgam filling. Cosmetic fillings are usually performed to serve aesthetic purposes. These are also known as onlays and inlays. Another type of filling is the direct white filling, which is also a cosmetic filling.
What is a cosmetic filling?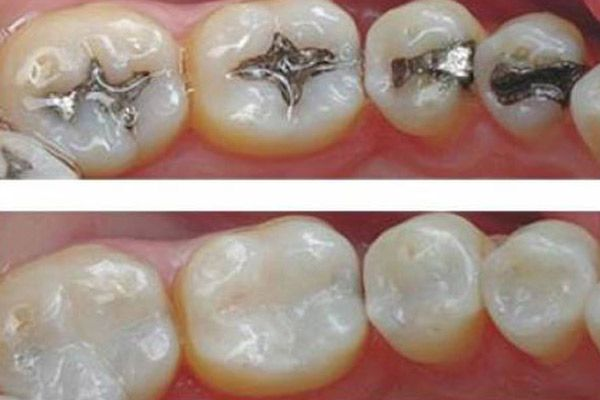 A filling is a dental procedure in which material like silver amalgam or a composite filling is used to treat a tooth that is decayed. This material is surgically inserted into the tooth, where it then prevents further decay or repairs any damage. This treatment helps in stopping the decay from spreading into the root of the tooth, where it leads to serious infection or abscess, which might even require a tooth extraction.
The silver amalgam filling is the traditional type of dental filling that is a combination of certain metals like Tin, Copper, and Mercury. This combination will help in retaining the normal function of the tooth. The composite white filling is a synthetic combination of acrylic resin and glass with a white color that matches the color of the tooth. It is also chosen for aesthetic reasons as most of the patients prefer having fillings that match the rest of their teeth.
What are the advantages of cosmetic fillings?
The main advantage of silver amalgam fillings is that they are durable. They can last for a very long time as compared to other types of fillings.
As the color of the composite white fillings is similar to the color of your natural teeth, these fillings can easily blend with them. Certain issues had been reported regarding the safety of silver amalgam fillings because of the mercury content in them. And therefore, patients tend to switch to composite fillings.
On the other hand, inlays and onlays are less extensive than normal filling. These fillings are easy to care for and are long-lasting. They cover the surface of the tooth and protect it from further fracture, preserving the existing tooth structure. They are also used in removing and replacing the old fillings.
Call us 404-261-8880 or schedule an online appointment with Dr. Patel for a consultation at our office in Atlanta, GA.